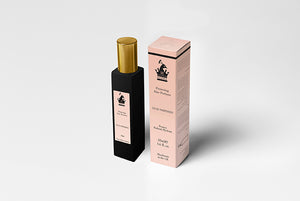 Herra Oud Inspired
Sale price Price £29.99 Regular price
Tax included.
Herra Oud Inspired is a light, floral, refreshing fragrance. Inspired by the lighter, milder forms of oud. Combining patchouli, sandalwood and white oud nuances together with precious musk's and ambers. Spicy resinous and saffron accords entwine with the floral heart of rose, jasmine, lavender, orris and geranium whilst top notes of bergamot, mandarin, red fruits and lemon add refreshing sparkle. 
PROTECTION - HYDRATION - WEIGHTLESS
KEY NATURAL INGREDIENTS 
Sunflower Extract, Glycerine & Olive Leaf Extract
Sunflower Extract: Helps protect the structure of the hair and assists in providing protection against UV and colour fade.
Glycerine: Helps provide ample hydration and seals in moisture, without weighing down the hair.
Olive Leaf Extract: Rich in antioxidants that help protect from pollution and free radicals.
HERRA fragrances are designed to compliment your regular body perfume.
ALCOHOL DENAT
Denatured alcohol is the lowest molecular alcohol that creates the mist to disperse evenly across the vail of the hair. The alcohol evaporates as soon as it's sprayed so the natural active ingredients work on the hair.